Jungle Safari Booking Form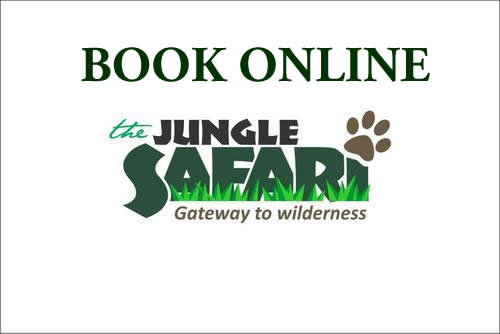 Safari booking is open for Gohri Zone (Buffer) Only.
Jhilmil Zone will open: 15th October 2023
Chilla, Motichur, Ranipur zones will open: 15th November 2023
So choose zone accordingly. 
Please Note:
Book early help us to make arrangement properly.
Sitting capacity of Jeep is 6 persons at at time. No Sharing allowed.
Jhilmil Jheel zone A marshy grassland just near the Rajaji National Park (extension area of Rajaji Tiger Reserve), near Haridwar. This is a unique 155 hectare (383 acre) site. It is corridor for most of animals transferring from National Park. Jhimil is literally the last piece of primordial Terai marshland to survive untouched in Uttarakhand. A panoramic view from the well-situated watchtower can take one back a millennium and more; little would have changed. At this low-lying site (altitude: 240 m. or 800 ft.) lives Uttarakhand's only surviving herd of Swamp Deer or Barasingha (Cervus Duvaucelii).
Forest Rest House booking can be done only through Director Office, Dehradun by sending them fax or email, subject to availability or decision of director office. We have no role in it.
Pickup from Haridwar/Jolly grant Airport by Tata Indica/4 Seater cab will be extra
Guide Cost will be Extra
GST (5%) will be Extra.
Only Jhilmil Zone safari available this time, which is also subjected to rain conditions, rest zones are closed and will open 15th November onwards
Rain effect: Some time due to unavoidable reasons like heavy rain (Pre monsoon rain), park gate specially Chilla got closed. In this conditions we provide safari on another gates of Rajaji (like Motichur, Jhilmil, Ranipur etc) depend on situations. Or guest may come on another opening schedule of prescribed gate as soon as open by Forest deparment. Refund is not possible in this situation, if guest are not ready to avail alternative solutions.
As Jhilmil gate open round the year, but Monsoon / heavy rainy day may close it unexpectedly due to safety reason. In this case no refund is possible. We can only postpone the safari till the safari track is ready for safari.